Indian Top Female Supermodels | Indian Models
Neha Raghuvanshi
Neha Raghuvanshi is a very versatile and dynamic upcoming model. She is cute and hot at the same time. She easily transforms from being bubbly, chirpy, vivacious to hot and sexy seductress. Her smile and her eyes are her biggest asset. Neha Raghuvanshi is a trained dancer in various western dance forms and is all in for parties, dancing and enjoying life to the fullest. She has done her hospitality training from Frankfinn, Chandigarh. Her aspiration to do something big in life landed her to modeling industry. She wishes to be as successful as Priyanka Chopra. She has very good communication skills with a little British accent that suits her personality and gives her an edge above the other struggling models. Full with energy and zeal this girl, Neha Raghuvanshi, is surely going to rock the modeling industry soon. We wish you all the best honey !!!
Model: Neha Raghuvanshi Height:5'3″ Weight: 48 Kgs Vitals: 34-26-36 inches
Neha is interested in doing TV commercials, movies, TV serials, print ads, music videos and anchoring. Neha has recently done VLCC TV promo ad, HP notebook launch, ViewSonic ipad, garment catalog shoots, lifestyle shoots, Bridal shoots and music videos.


Shikha Kain
Shikha Kain is an upcoming Indian female model with hopes to shoot for Satya Paul one day. This dove eyed beauty is very easy to work with and understands the industry very well. Shikha is pursuing Bachelor of Journalism and Mass Communications from Delhi. Her biggest asset is her confidence and her role model is her Mother. Her confidence comes mainly from the fact that her mother has been very supportive in all her decisions. Thats the reason she loves her mother the most apart from her pet. We wish her all the best for career ! Groomed and launched by NIMs.
Model: Shikha Kain Date of Birth: 24th Oct. 1990 Height: 5′5″ Weight: 50 Kg Vitals: 32-26-34 inches City: Delhi Passport: No
Shikha Kain is interested in doing print ads, tv serials, tc commercials, ramp shows and reality shows. Shikha has already worked as an artist in reconstruction part of Sansani for Star News and in a daily soap serial of DD Kashmir. She has done a magazine shoot with Malaysian photographer as well.







Bobby Layal
Bobby Layal is a very elegant female model who has recently shifted to New Delhi. She was discovered by a well known choreographer Mr. Kaushik Ghosh while he was conducting grooming classes in Ludhiana, Punjab during 2008. She has done various fashion shows all across India.
Bobby is a very hardworking Punjabi girl with lots of stamina and passion for work. After establishing herself in Punjab she explored the Delhi modelling circuit and soon got in touch with NIMs leading fashion photographer Mr. Manish Gupta. Soon she was selected for NIMs 2011 calendar and since then there has been no looking back. Trained in singing and various dance forms she aspires to be a top model within few years. We wish her all the very best and hope her dreams come true soooooon !!!
Name: Bobby Layal Date of Birth: 5th August 1990 Height: 5'8″ Vitals: 32-24-36 City: Delhi Bobby is interested in: Print ads, TVCs, Music videos, Movies, Ramp shows
Bobby has already done: Music videos for Jassbir Jassi, Ravinder Garewal, Gurvinder Brar, Print ads for lifestyle products, Garment catalogues, Spice Mobile and various ramp shows all across India with Kaushik Ghosh, Vinay Gupta and Rudra Pratap, TVC for a jewelry brand.
Pics of Bobby Layal:








Rituu Sachdev
Rituu Sachdev is the perfect example of beauty with brains. This stunning multi-tasking girl has done lot of shoots and commercials in the industry and wants to do as much work as she can do. Her mother is her role model in her personal life and she admires Sushmita Sen in modeling industry. This highly talented girl has lot of potential and respect all the work she has done so far. She is very ambitious and highly passionate about her career. This versatile model has also done Telgu and Kannada film as a lead actress. She wants to see herself as a successful model and a Bollywod actress in future. All we can say to this girl is – set your goals and work hard to achieve them. We are sure you are going to shine like a star Rituu. All the best dear !!!!!!
Model: Rituu Sachdev Date of Birth: 25th October, 1987 Height: 5′6″ Weight: 48 Kg Vitals: 35-26-35 inches City: Mumbai Rituu Sachdev is interested in: Print ads, Movies, TV commercials and Music videos Hobbies: Reading, Movies, Music and Dance
Rituu Sachdev has done: Print ads for bathing soap & detergent, fun cinema diary, FI brand of ethnic wear for women's era, ENVI brand of designer wear for women's era, videocon d2h, hoarding for Sahara's adventure park 18 degrees, editorial ads for women's era & grehshobha magazines. She has done commercial ad for bathing soap & detergent, P.V. Gold jewelery and pioneer ice talc. Done music videos for rahbar for alka yagnik, nadeem shravan and chahat for venus. Telegu film: female lead in 99 banjara hills. Kannada film: Rituu Sachdev is female lead in Srimoksha released on 10th June-2010.




Vaibhavi Ranjan
Vaibhavi Ranjan is a fresh and new face in the modeling industry. This Mumbai girl has performed at college level in arts, dance and drama. She loves her family and her father has been her biggest support with mother the controlling factor and the brother who is a spoilt brat is her best critic. She wants to see herself as an established and successful known face in the modeling industry by working hard and showing her talent to the world. She believes in simple living and high thinking and wishes to work with professional minded people in her life. She admires Priyanka Chopra in the modeling industry and has the ability to learn new things quickly. We wish her all the very best and success in life.
Model: Vaibhavi Ranjan Age: 1st May, 1987 Ht: 5′4″ Wt: 53 Kg Vitals: 32-24-34 inches City: Mumbai Areas of interest: Print ads, Movies, TV serials, TV commercials and Music videos Hobbies: Dancing and movies



Ekta Gupta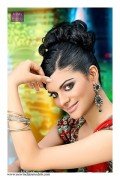 Ekta Gupta is blessed with good height and looks. This gorgeous girl has been trained in Bharatnatyam, Belly dancing, basic Latin American, folk and classical dancing. She is a fresh face in the modelling industry and a graduate in mass media and fashion communication. This chirpy and bubbly girl believes in herself and that is what gives her courage to move ahead in life. She is full of excitement and wants to see herself as a successful model. She loves painting, swimming and traveling. There is long way to go ahead girl, keep doing good work. All the best Ekta!
Model: Ekta Gupta Date of Birth: 2nd November, 1990 Height: 5′8″ Weight: 52 Kg Vitals: 34-26-32 inches City: Mumbai
Ekta Gupta is interested in: Print ads, Movies, TV commercials, Music videos and Ramp Ekta Gupta likes: Painting, Swimming and Yoga











Maanta Dewan
Maanta Dewan is a brown eyed trendy girl. She is also called dancing diva as she is a trained Indian classical dancer which includes Bharatnatyam and folk. She is also trained in bollywood, jazz and western dance from Shiamak Davar (SPIDA) and performed on stage as well. She is born and brought up in Mumbai itself and did her schooling from Jamnabai Narsee School, Mumbai. She is a big fan of Priety Zinta, Amrita rao, Genelia and Deepika and admire them in her life. Her positive attitude is the biggest strength in her life. She believes in simple living and high thinking. She wants to see herself being celebrity, interviewed and followed with lot of camera flashes. May god give you all that you desire babe. Keep doing good work!!!!!!
Model: Maanta Dewan Age: 27th April, 1989 Ht: 5′4″ Wt: 44 Kg Vitals: 33-25-35 inches City: Mumbai
Maanta Dewan is interested in: Print ads, TV commercials, Music Videos, Movies, TV serial and Anchoring. Maanta Dewan loves: Dancing, Listening music, Watching movies, Love to eat and Reading motivational books.
Experience: Maanta Dewan has done TV commercial for brand – zuska (deos & perfumes). Print for IMS which featured in Mumbai Mirror, Pune Mirror and TOI, print shoot for ethnic wear. Done fashion editorials for magazines & cover page- Grahashobha, MTV stylecheck, Wella style trends 2010 fashion show, print for Loreal (hair). Last but not the least done a short film for surrealism.















Anjali Pandey – Fashion Model
Anjali Pandey, a bubbly chirpy Indian female model has surely made a big mark in Indian modeling industry. This stunning beauty is a trained Kathak dancer, a swimmer and a singer too. Apart from these skills she has a diploma in information technology and a BCA degree under her cap.
Anjali Pandey came on this Earth on 6th June ( don't ask the year ).
Anjali Pandey's work profile:
Music Videos:
"MAIN AUR TU" for Pakistan's super sensation "AHMED JEHANZEB'S"
Debut album "LAUT AAO" on TIPS released
Movies:
Recently completed a South Indian film "Chanaksha" directed by Raj Shekhar
TV Commercials done by Anjali Pandey:
Imperial Blue (27th Feb, 2006) Yamaha G5 (2nd March, 2006) Sprite (March, 2006) Sunsilk-Gang of Girls (6th April, 2006) Emami Fair and Teen (8th April, 2006) Idea Women's Card (21st April,2006) Shiff Soap (23rd April, 2006 ) Kalyan Silks (22nd June, 2006) Big Bazar (10th Aug, 2006 ) Walls Ice Cream (Pakistan) (27th, 28th ,29th Aug,2006 ) Dreamz Candy (For Pakistan) Hero Honda (Glamour, with "Yuvraj Singh") Film Fare, Hair N Care, Disney (Jan, 2008 ), Ujala (Jan, 2008) and many more.
Print Ads done by Anjali Pandey:
Himalaya Anti Wrinkle cream, Central Mall, Reliance, Maggie Vending Machines, Venus Soap UTV-Bindas, Big Bazar, Bacardi Blast, Microsoft, Unitech Builders Kinetic Nova, H.P. Power, Taruni Sarees
Update: March 2010 – Anjali Pandey just did Himalaya Anti Wrinkle Ad.




Anjali Pandey's aim is to make it big in Bollywood. Check out her portfolio below.